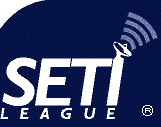 Departments
Membership Services
General Info
Financial Info
Activities
Awards
Coordinators
Director's Info
Members' Info
Policies
Forms
Publications
Official Publications
Director's Publications
Ask Dr. SETI ®
Fiction
Non-Fiction
Reviews
Reading Lists
Technical Support
Systems
Antennas
Amplifiers
Receivers
Accessories
Hardware
Software
Press Relations
Fact Sheets
Local Contacts
Editorials
Press Releases
Photo Gallery
Newsletters
Internet Svcs


Membership Services Department

---
Grant History
In addition to membership dues and contributions, The SETI League, Inc. depends upon grants from various agencies to fund its educational and scientific activities. Clicking on the Fiscal Year links below will allow you to download grant applications, acceptance or rejection letters, and final reports, in Portable Document Format.
| | |
| --- | --- |
| | You are welcome to download the free Adobe Acrobat ® reader to allow you to view PDF files. |
Link to The SETI League, Inc. Endowment Fund
See GuideStar, for further information about The SETI League, or any other nonprofit organization.