EuroSETI04 Science and Technology Workshop
---
|- banquet -|- location -|- lodging -|- papers -|- prereg -|- program -|- register -|

EuroSETI04 Venue



March 26-28, 2004, Heppenheim Germany

EuroSETI04 workshop sessions are all being held at the Starkenburg Observatory, Heppenheim Germany. Heppenheim is located 30 km from Mannheim, which can be reached via road, rail and air from many European cities. The nearest major international airport is in Frankfurt, some 45 km distant.

Driving Directions:

Motoring on the A5 from Frankfurt (from the north) or Heidelberg (from the south), take exit 31, marked "Heppenheim," and drive toward the city. Or, from Mannheim (from the West), take the A67 to Heppenheim and cross over the A5 onto Lorscher Strasse. This road leads to an underpass, after which you will come to a roundabout at the center of Heppenheim. Here you bend to the left onto the B3 and (importantly) again immediately to the right onto the B460 in the direction of Erbach/Odenwald.

Proceeding East on the B460 (also labeled Siegfriedstrasse), you will see the Hotel Mercure Heppenheim on your right. At the second traffic light you bend to the left onto a cobblestone road which climbs the hill toward the castle. After approx. 100 m, the road begins to become very steep. Follow this road once nearly around the mountain. You will first see a beautiful view of the city of Heppenheim, and beyond that the Rhine valley all the way to Mannheim (with good view of the mountains).

The road then leads into a forest. The "Scheutzenhaus" restaurant is visible on the right side. After a further approx. 200 m through the forest, watch for the EuroSETI04 signs, and park in the parking lot (we are asked not to drive beyond this point). From here you will see, on the right, the white dome of the observatory. Follow the road on foot, approx. 50 meters, and enter the observatory grounds through the gate on the right side.

See the map below, or for further details, see the Starkenburg-Sternwarte website.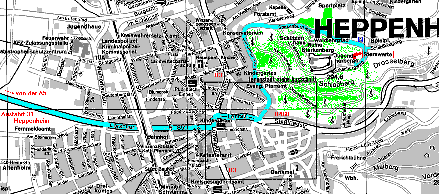 Click on above map to enlarge
---