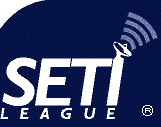 Departments
Membership Services
General Info
Financial Info
Activities
Awards
Coordinators
Director's Info
Members' Info
Policies
Forms
Publications
Official Publications
Director's Publications
Ask Dr. SETI ®
Fiction
Non-Fiction
Reviews
Reading Lists
Technical Support
Systems
Antennas
Amplifiers
Receivers
Accessories
Hardware
Software
Press Relations
Fact Sheets
Local Contacts
Editorials
Press Releases
Photo Gallery
Newsletters
Internet Svcs


Email Lists and Newsgroups
---
Webmaster's Note:
Dear SETIzens,
For nearly two decades, The SETI League has provided a series of communications outlets for its members, through various email discussion groups, web forums, and distribution lists. With the increasing popularity of Social Networking, we have disbanded these obsolete media, in favor of Facebook. We encourage our members and the general public to participate in discussions about the technical, scientific, and cultural aspects of SETI on our Facebook page. These discussions are open to anyone "Liking" our Facebook page, and will be moderated only to the extent necessary to ensure that all posts respect the spirit of The SETI League's stated Vision and Mission.
Thank you for your participation.
Yours for SETI Success,
Paul

www.facebook.com/setileague
The links below, which point to dormant forums and groups, are retained for historical purposes only.
---
Disclaimer: The opinions expressed in posts to any of the above forums are those of the individual authors, and do not necessarily reflect the position of The SETI League, Inc., its Trustees, officers, Advisory Board, members, donors, or commercial sponsors. The provisions of The SETI League Internet Contents Disclaimer are extended to encompass messages distributed via all email lists, newsgroups, and discussion groups sponsored by The SETI League, Inc.