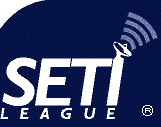 Departments
Membership Services
General Info
Financial Info
Activities
Awards
Coordinators
Director's Info
Members' Info
Policies
Forms
Publications
Official Publications
Director's Publications
Ask Dr. SETI ®
Fiction
Non-Fiction
Reviews
Reading Lists
Technical Support
Systems
Antennas
Amplifiers
Receivers
Accessories
Hardware
Software
Press Relations
Fact Sheets
Local Contacts
Editorials
Press Releases
Photo Gallery
Newsletters
Internet Svcs


The SETI League Technical Manual
Copyright © 1996 - 2012, The SETI League, Inc.
---
---
Editor's Note:
The SETI League Technical Manual, as maintained on our World Wide Web site, is a dynamic document. Changes are posted on a weekly basis. To benefit our members without Web access, a print version of the Manual is being distributed upon request. But the Web site is a moving target. Readers of the print version of this Manual are advised that it is, by definition, an obsolete document. For the very latest in SETI League technical information, check the online Technical Manual at www.setileague.org/
---
SETI League members are invited to submit recommendations for hardware and software postings to this Manual. Please email:


n6tx_at_setileague_dot_org
---
Disclaimer: The hardware and software alternatives discussed in these pages are furnished as a service to the SETI League membership. This information is provided to assist those SETI League members interested in assembling microwave SETI receiving stations. Unless otherwise specified, listing on this Web site in no way constitutes an endorsement of any particular product or service.