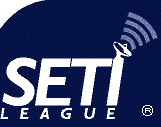 Departments
Membership Services
General Info
Financial Info
Activities
Awards
Coordinators
Director's Info
Members' Info
Policies
Forms
Publications
Official Publications
Director's Publications
Ask Dr. SETI ®
Fiction
Non-Fiction
Reviews
Reading Lists
Technical Support
Systems
Antennas
Amplifiers
Receivers
Accessories
Hardware
Software
Press Relations
Fact Sheets
Local Contacts
Editorials
Press Releases
Photo Gallery
Newsletters
Internet Svcs


Special Projects Report
by Scott Carter, VE3CGN
There simply has never been a better time to participate in SETI. Recent advancements in computer and radio technology, the discovery of new exoplanets and of course the SETI League community make it an exciting time to be involved! If I haven't had the pleasure of speaking with you yet, my name is Scott Carter, VE3CGN. I have been operating a Project Argus station in Canada for five years now, and am pleased to have recently accepted the position of Special Projects Coordinator for SETI League.
During the third grade, I read a book about a boy who built a flashlight for his sister who was trapped in a dark closet. He built it from a light bulb and batteries taped to a ruler. I can't remember the name of the book,but I was hooked on electronics after reading it, and I set out to build my own flashlight. Once I got to high school, I landed a job fixing citizens band radios and car audio equipment. However, computers caught my eye, and I eventually got involved professionally in the computer industry.
I have been an amateur radio operator for over 30 years, so I have a background in radio. Since I grew up in the space shuttle era, I was also interested in space early in life. Although I did run SETI@Home for several years, SETI really grabbed my attention more recently when I was researching Project Argus on the SETI League web site. That is when I decided to build my own station. I really enjoy helping others by making my radio telescope remotely accessible to those who are unable to have one of their own.
My radio telescope is under construction most of the time, as I am continuously working on improvements. It is a three metre (ten foot) hydrogen-line telescope with a choke and cylindrical feed. It feeds a Low-Noise-Amplifier, 1420 MHz bandpass filter and LMR-400 coaxial cable. The dish uses a SpectraCyber radio telescope back-end and a custom SETI software package written in Java. Dish control is managed using Arduino boards and a Raspberry Pi, which are accessible via fiber optic cable between the dish and the receiver room. The dish has an actuator arm for elevation, and is undergoing modifications to add azimuth control and full tracking capability.
I am very excited about bringing some new ideas to the table at SETI League, including the introduction of a new project, Project Locus. This project will be a targeted SETI search of nearby stars that have known exoplanets similar to Earth. Keep an eye on this space for details as we roll out the project in 2022. In order to better coordinate our search projects, I kindly ask that you send me a quick email expressing your desire to participate in Project Locus or with your continued support for Project Argus, so that I can update our database. I can be reached at search@setidata.ca, and I look forward to hearing from you.
What is your favorite software package for SETI use? Do you have specific frequency bands you prefer to monitor? Do you have questions about building a station? Project Argus and Project Locus station operators are encouraged to join the "SETI Station Builders" Facebook group. This group is intended to help new SETI station operators get started, and for members to share experiences with different hardware and software platforms. We would like to grow our active SETI League on-line community, and we can only do so with your participation. I look forward to exchanging ideas with you in the new group, and learning what type of gear everyone is using for their stations.
To move our search projects forward, I would also like to start up the Software Committee again so that we can work on developing SETI League's next generation of search software. While we encourage you to use whatever software you have available for searching, the project would benefit from a common search platform, especially with regards to reporting functionality. Please email me at search@setidata.ca if you are interested in participating in the Software Committee.
If you are a software developer and haven't heard of SETI on the Allen Telescope Array (SonATA) project, this is one project you might want to take a lookat. The SETI open-source project is located at https://github.com/setiQuest/SonATA and is something I am looking at myself. It will need to be adapted to work with SDR receivers, but it has real potential. This is one project that the Software Committee will be keeping an eye on as well.
We are interested in what SETI League members are doing, so please share with the group or send us an email. SETI League is your organization, and we would like to hear from you. Please send in your station updates and any comments or suggestions thatyou may have to search@setidata.ca, join us at Facebook.com/setileague, and visit our website at http://www.setileague.org today!
---
Disclaimer: The opinions expressed in editorials are those of the individual authors, and do not necessarily reflect the position of The SETI League, Inc., its Trustees, officers, Advisory Board, members, donors, or commercial sponsors.