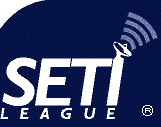 Departments
Membership Services
General Info
Financial Info
Activities
Awards
Coordinators
Director's Info
Members' Info
Policies
Forms
Publications
Official Publications
Director's Publications
Ask Dr. SETI ®
Fiction
Non-Fiction
Reviews
Reading Lists
Technical Support
Systems
Antennas
Amplifiers
Receivers
Accessories
Hardware
Software
Press Relations
Fact Sheets
Local Contacts
Editorials
Press Releases
Photo Gallery
Newsletters
Internet Svcs


Is SETI News Harmful to Radioastronomy?
by Ignas Snellen, Professor of Astronomy
Leiden University, Netherlands
How harmful is all the recent SETI (non-)news for astronomy?
We astronomers have always been very good in selling our stories, invoking giants, dwarfs, black holes, dark matter, dark energy, and a big bang to convey complex concepts which are so much larger than the human scale. It engages journalists, policy makers and politicians, and the general public, and helps to make them interested and excited in what we do.
There is, however, a fine line between using metaphors and simplifications to help explain the universe as we think it works, and spreading fairy stories and known falsehoods. Is the use of the latter increasing, and how damaging is this to our beloved research field?
Personally, I have already for a while been quite annoyed by some news stories, but my short write-up is triggered by a recent piece in a Dutch quality newspaper De Volkskrant, about the rise of fake news in astronomy, focusing on the reporting around the Oumuamua asteroid. Firstly, the news that it could possibly be a space ship and that it would be searched for signals from extraterrestrial intelligence, then the subsequent news that no such SETI-signals were yet found but that only a small part of frequency space was searched for, and finally followed by statements that the spaceship was possibly impaired anyway because the object is tumbling. Importantly, these news stories were not spread by some random new-media bloggers, but by ourselves as professional astronomers.
Earlier examples include an alien megastructure as a credible possibility for variability seen in Tabby's Star, the idea that fast radio bursts could be alien engine exhausts, leakage from planet-size transmitters (or other SETI related phenomena), and the bombastic announcements of new SETI searches every time a new temperate rocky exoplanet is found.
I have always had great respect for SETI scientists. They have been battling on for more than 50 years, showing great resilience in a mostly hostile scientific climate, and showing great restraint (their 1977 Wow Signal should be forgiven). A good example is how in 2016 Russian astronomers were very effective in contradicting reports that the RATAN-600 telescope had spotted a possible SETI signal (news that was in first instance spread by non-scientists).
Currently, most SETI-related news seems to be interfering with conventional scientific discoveries, stealing the limelight - without following basic rules of science. By definition, SETI signals cannot be explained by the general laws of physics - that is how we would identify them as such. Therefore, there is no place for alien civilizations in a scientific discussion on new astrophysical phenomena, in the same way as there is no place for divine intervention as a possible solution. One may view it as harmless fun, but I see parallels in athletes taking banned substances. It may lead to short-term fame and medals, but in the long run it harms the sport. Same for astronomy: we should be very careful not to be ridiculed. I really hope we can stop mentioning SETI for every unexplained phenomenon.
---
Disclaimer: The opinions expressed in editorials are those of the individual authors, and do not necessarily reflect the position of The SETI League, Inc., its Trustees, officers, Advisory Board, members, donors, or commercial sponsors.