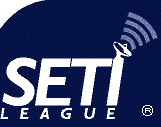 Departments
Membership Services
General Info
Financial Info
Activities
Awards
Coordinators
Director's Info
Members' Info
Policies
Forms
Publications
Official Publications
Director's Publications
Ask Dr. SETI ®
Fiction
Non-Fiction
Reviews
Reading Lists
Technical Support
Systems
Antennas
Amplifiers
Receivers
Accessories
Hardware
Software
Press Relations
Fact Sheets
Local Contacts
Editorials
Press Releases
Photo Gallery
Newsletters
Internet Svcs


SETI Institute Reinvents SETICon
by H. Paul Shuch
Executive Director Emeritus
---
This month in Santa Clara, CA, our friends at the nonprofit SETI Institute are hosting an event that they are billing as the "first ever SETICon." Their plans include three full days of activities, four programming tracks, some top-notch guests, and a gala banquet. As fellow SETI enthusiasts, we in The SETI League wish them every success with their event. But, we are puzzled.
Longtime SETI League members will recall the annual technical conferences which our international nonprofit organization hosted, starting in 2001, and continuing for several years (until we ultimately ran out of money). We called them SETICons. To be sure, SETI Institute personnel were well aware of these meetings, since we are privileged to have several of their staff as SETI League members, and in fact were lucky enough to welcome a few of their number as SETICon presenters.
Although our two organizations advocate different (complementary) research modalities, relations between these two leading SETI groups have always been cordial and mutually supportive. We all lamented the demise in 1993 of the briefly funded NASA SETI program, and each tried, in its own way, to fill the void. Both organizations continue to advance radio telescope technology, and both conduct ongoing searches for electromagnetic emissions of intelligent extraterrestrial origin.
The differences between the two groups are significant, but serve more to unite than to distance us. The SETI Institute uses generous contributions from some well-known captains of industry to employ a top-notch staff of highly trained, very talented professionals. The SETI League adopts a more grassroots approach, with no paid employees, minimal funding in the form of dues contributions, and relies on the volunteer efforts of hundreds of its members around the world to accomplish its scientific mission.
Both the SETI League and the SETI Institute are committed to furthering SETI science. For the past several years, the SETI Institute has spearheaded the design, development, construction, and operation of the Allen Telescope Array, clearly the world's most advanced SETI research instrument. The SETI League takes a different tack, encouraging the construction of hundreds of small, low-cost amateur radio telescopes around the world. In years past, the SETI Institute has conducted a powerful targeted search of nearby sun-like stars, while the SETI League has concentrated on a significantly less sensitive all-sky survey, in hopes of detecting those very powerful, yet highly intermittent, signals which might well evade a more sensitive, targeted search.
With common goals approached from different directions, it is no surprise that the SETI Institute SETICon differs in emphasis from those SETICons which I had previously chaired. The California group has rounded up an impressive slate of prominent speakers from the fields of science, academia, and entertainment. Speakers at the original SETICons were just ordinary SETI League members, doing extraordinary things. Their event is being held in a posh hotel; ours were on austere college campuses. Their $150-a-ticket banquet will doubtless feature far better food than was served at our $30 buffets. Our $30 registration fee included a self-published volume of Proceedings. Their $35 basic registration covers attendance, but (as far as I can determine) no Proceedings. All of our registrants received free coffee and soft drinks. Their $500 and $1000 VIP attendees get champagne.
Unfortunately, I will not be attending this new SETICon. Frankly, I can't afford to. And, it's a pity, since I have nothing but the highest respect for the science and technology breakthroughs coming out of California. And I'm genuinely pleased that SETI Institute personnel have decided to follow our lead, and resurrect the SETICon concept. Perhaps, with their resources, this will be an annual event that will continue well into the future, something that the SETI League was not able to accomplish.
The SETI League is delighted that our friends at the SETI Institute are finally sponsoring their first SETICon, and we wish them the very best. We only wish they had thought to invite us to participate.
Disclaimer: The opinions expressed in editorials are those of the individual authors, and do not necessarily reflect the position of The SETI League, Inc., its Trustees, officers, Advisory Board, members, donors, or commercial sponsors.