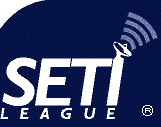 Departments
Membership Services
General Info
Financial Info
Activities
Awards
Coordinators
Director's Info
Members' Info
Policies
Forms
Publications
Official Publications
Director's Publications
Ask Dr. SETI ®
Fiction
Non-Fiction
Reviews
Reading Lists
Technical Support
Systems
Antennas
Amplifiers
Receivers
Accessories
Hardware
Software
Press Relations
Fact Sheets
Local Contacts
Editorials
Press Releases
Photo Gallery
Newsletters
Internet Svcs


Pandemic Assistance – Just Around the Corner
By H. Paul Shuch, Executive Director Emeritus
The global pandemic from which we are only now beginning to emerge has, for well over a year, impacted all of us. The SETI League is no exception, although we have perhaps weathered the storm better than most. Members of your leadership team had already been working from home for some time, reducing both facilities overhead and commute costs. Our volunteers around the world have continued their activities, as their personal schedules and resources would permit, and we remain no less successful at detecting evidence of extraterrestrial technology than we had been for the past quarter century! So, the search goes on.
If you've been following our Event Horizon page on The SETI League website, you will have seen that nearly all in-person scientific conferences and meetings have been either canceled outright, or replaced by virtual meetings on Zoom, or other remote access platforms. This is how we handled the recent Annual Membership Meeting, and how we expect to continue holding it for the foreseeable future. Perhaps the only bright side of this public health emergency is that it's dragged many of us, kicking and screaming, into the 21st Century. But then again, isn't remote communication what SETI science is all about?
Though I certainly have missed in-person contact with my colleagues worldwide, an unexpected benefit of curtailing travel is that my travel budget has gone unspent. Thus, your SETI League has remained solvent, despite a significant (and fully expected) reduction in contributions and member dues revenues. As the financial information in this newsletter will confirm, we have operated this past year at a deficit, but are fortunate enough to be able to continue doing so for some time into the future.
So, just as governments and non-government organizations around the world are doing to mitigate the impact of the current pandemic, The SETI League is in a position to assist, at least in a small way, those of you who have stuck with us through thick and thin. At our virtual Annual Membership Meeting in April, your Board of Trustees voted to extend, at no charge, the membership period for all members currently in good standing, through the end of 2022. Of course, if your financial circumstances permit and you are so inclined, we would welcome membership contributions during this dues holiday. But, if you choose not to contribute financially, rest assured that you will still remain one of us. On behalf of the SETI League Board, I thank you all for your generous support and encouragement over the years, and wish you health as we begin the slow return to normalcy.
Yours for SETI Success, Paul
---
Disclaimer: The opinions expressed in editorials are those of the individual authors, and do not necessarily reflect the position of The SETI League, Inc., its Trustees, officers, Advisory Board, members, donors, or commercial sponsors.