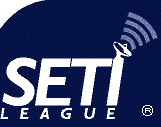 Departments
Membership Services
General Info
Financial Info
Activities
Awards
Coordinators
Director's Info
Members' Info
Policies
Forms
Publications
Official Publications
Director's Publications
Ask Dr. SETI ®
Fiction
Non-Fiction
Reviews
Reading Lists
Technical Support
Systems
Antennas
Amplifiers
Receivers
Accessories
Hardware
Software
Press Relations
Fact Sheets
Local Contacts
Editorials
Press Releases
Photo Gallery
Newsletters
Internet Svcs


I Really Cannot Do It Alone
by H. Paul Shuch
Executive Director (Emeritus)
When I helped start The SETI League in 1994, one of my first tasks was to establish a website on this new medium called the Internet. To hold public interest and encourage frequent repeat visits, president Richard Factor and I decided that website should be updated once per week. The idea was to generate new content on an ongoing basis. Thus, we've strived for the past quarter-century to post a new Featured Photo every week; a fresh editorial, as well as a link to a new SETI SuperStar award winning website, every single month; and a new Press Release several times a year.
As the Web matured, and new social media outlets emerged, most organizations saw the function of a website evolving. Today, websites generally host evergreen content (that is, information that changes seldom, if at all). For latest news, it is common to provide very frequent (often daily) updates to Facebook pages, and even more frequent (perhaps every few hours) posts to Twitter. And, to make this happen, a new job title, Social Media Director, was created.
Although, not so at The SETI League. Lacking the volunteer or financial resources to employ an individual to develop and expand our media footprint, your Executive Director persisted in personally performing weekly web updates, and writing most of the content for quarterly newsletters. Although he solicited from the membership contributions of photos, guest editorials, award nominations, and technical articles, few such contributions materialized.
Still, during the decade that I had the honor of serving as The SETI League's sole fulltime employee, I did my job as best I could: weekly web updates, frequent press releases, and quarterly newsletters continued to flow. I even managed to launch a Facebook page to keep the membership and the press updated, replacing expensive mailings and awkward online forums. But, like our entire membership, your leadership team is now graying. It's uncertain how much longer I shall be able to carry the torch. Reluctantly, I've had to make adjustments during my retirement, more carefully to husband my limited energies.
As The SETI League enjoys its 25th year, you can expect to see our website become more of a repository for evergreen content. I will still do occasional updates, when suitable material is provided to me. But, I will need your help. I appeal to you, our members, to contribute interesting, SETI-related content. If you attend an interesting conference or meeting, please submit a photo for website posting or use in SearchLites, our quarterly newsletter (which I promise to continue publishing, as long as health and energy permit). If a question of science or policy captures your imagination, please draft a Guest Editoral (which I will be happy to edit as necessary; you need not be a professional writer). If you see a website which you feel will be of interest to the SETI community, kindly nominate it for our SuperStar award. And if you have technical material which you think will fire the imaginations of your fellow members, please write it up!
Leading The SETI League has been an incredible experience for the past quarter-century. With your help, I will enjoy the ride well into the future. But, I really cannot do it alone.
---
Disclaimer: The opinions expressed in editorials are those of the individual authors, and do not necessarily reflect the position of The SETI League, Inc., its Trustees, officers, Advisory Board, members, donors, or commercial sponsors.