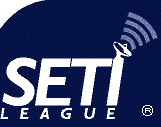 Departments
Membership Services
General Info
Financial Info
Activities
Awards
Coordinators
Director's Info
Members' Info
Policies
Forms
Publications
Official Publications
Director's Publications
Ask Dr. SETI ®
Fiction
Non-Fiction
Reviews
Reading Lists
Technical Support
Systems
Antennas
Amplifiers
Receivers
Accessories
Hardware
Software
Press Relations
Fact Sheets
Local Contacts
Editorials
Press Releases
Photo Gallery
Newsletters
Internet Svcs


A Telescope on the Moon
by Jon Lomberg
(from his Citizen of the Galaxy blog, used by permission)
---
One of the many pleasures of living on the Big Island of Hawaii is that astronomy and space exploration are considered local news. I like that idea of "local." It's similar to the concept of "galacticity", as coined by Steve Durst, founder and president of the International Lunar Observatory Association (ILOA).
Galacticity is the perspective that sees our world set against its real backdrop - the vast Milky Way Galaxy. I recently returned from a trip to Asia with Steve, where he brought me to speak about the Galaxy Garden at his Galaxy Forum events in Beijing and Tokyo, where we hope to find partners in creating "sister" galaxy gardens in China and Japan.
Steve is working with another old friend, Bob Richards, a lunar explorer whose company Moon Express (ME) is vying for the $30 million Google X Prize. The prize will be awarded to the first private, non-governmental group that can send a small spacecraft to soft-land on the Moon, traverse a distance of 500 meters, and transmit a hi-def image and video back to Earth. Bob's venture, ME, is considered a serious contender by our knowledgeable sources.
The payload that ME will carry is the ILOA's project - the first astronomical observatory to operate remotely on the lunar surface. As a gesture of galacticity, the "first light" image that traditionally heralds the existence of new observatories will take as its first image, the center of the galaxy. One more small step for Man, or at least machine.
Disclaimer: The opinions expressed in editorials are those of the individual authors, and do not necessarily reflect the position of The SETI League, Inc., its Trustees, officers, Advisory Board, members, donors, or commercial sponsors.