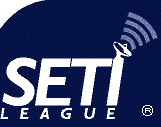 Departments
Membership Services
General Info
Financial Info
Activities
Awards
Coordinators
Director's Info
Members' Info
Policies
Forms
Publications
Official Publications
Director's Publications
Ask Dr. SETI ®
Fiction
Non-Fiction
Reviews
Reading Lists
Technical Support
Systems
Antennas
Amplifiers
Receivers
Accessories
Hardware
Software
Press Relations
Fact Sheets
Local Contacts
Editorials
Press Releases
Photo Gallery
Newsletters
Internet Svcs


Entering the Twenty-First Century
by H. Paul Shuch
One would assume that an organization whose mission is to seek contact with our cosmic companions would be well versed in the very latest in communications technology, wouldn't one? If so, one would be wrong.
It's not as though The SETI League hasn't tried. More than twenty years ago, one of my first tasks as your Executive Director was to establish a significant presence on the newly emerging Internet. A nonprofit with a global reach, I reasoned, must develop a conduit for educating and informing not just its members, but the general public as well. An expansive website seemed the ideal way to accomplish this, so with the assistance and encouragement of Heather Wood (now our secretary/treasurer), I began to teach myself the fine art of webmastering.
HTML the old-school way required me to learn the relevant tags, and then type them directly into a simple text editor, taking great care to leave no tag stranded, abandoned and unpaired. This was before the advent of today's fancy web editing software, that turns any document instantly and automatically into hypertext (albeit replete with an abundance of extraneous tags, the digital equivalent to the volumes of junk DNA that inhabit and expand the human genome).
Website in place, I set about to establish a plethora of email discussion groups, allowing collaboration between our members in a wide variety of interdisciplinary SETI's multiple sub-specialties. For quite a while our membership was very well connected. And it worked.
Then, seemingly overnight, the digital communications landscape changed. Suddenly, websites were becoming passe, as social networking began to dominate. Powerful handheld devices allowed us to tweet, text, post, like, follow, and share anything, with anyone, from anywhere. The SETI League was slow to respond, clinging steadfastly to our email lists and weekly web updates. In doing so, we began to lose our appeal to the younger generation on which we depend for the very future of SETI, which itself was looking more and more like a multi-generational endeavor, offering little to he or she who demands instant gratification.
In 2014, The SETI League finally took a bold and belated step into the future, with the establishment of an aggressive Facebook presence. Slowly, our website was relegated to providing an historical archive, province to evergreen content, while fast-breaking news in support of our members' instantaneous communications needs began to migrate to Facebook.com/setileague. The transition was traumatic for some, but inevitable.
To those of our members (and there have been more than a few) who say "I don't do Facebook," I say, give it a try. I post pictures and updates just a few times a week, trying to find the sweet spot between isolation and information overload. And, I encourage you to post your SETI-relevant thoughts and photos there from time to time. Working through social media, we can communicate and collaborate more effectively. If you happen to hear from ETI, won't you ask him to post?
---
Disclaimer: The opinions expressed in editorials are those of the individual authors, and do not necessarily reflect the position of The SETI League, Inc., its Trustees, officers, Advisory Board, members, donors, or commercial sponsors.