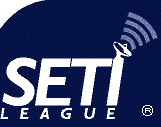 Departments
Membership Services
General Info
Financial Info
Activities
Awards
Coordinators
Director's Info
Members' Info
Policies
Forms
Publications
Official Publications
Director's Publications
Ask Dr. SETI ®
Fiction
Non-Fiction
Reviews
Reading Lists
Technical Support
Systems
Antennas
Amplifiers
Receivers
Accessories
Hardware
Software
Press Relations
Fact Sheets
Local Contacts
Editorials
Press Releases
Photo Gallery
Newsletters
Internet Svcs


We're Doing OK
by H. Paul Shuch
By now, everybody living on this planet (and perhaps on others) is aware that Earth is in the middle of a global public health crisis. This emergency affects us all, and I won't say there's no cause for concern. Every day, I receive queries from SETI League members and supporters from around the world, expressing concern for our wellbeing. So, let me assure you at the offset: we're doing OK.
Yes, The SETI League office is adjacent to New York City, which has been hit hard - so as you might have gathered, our office is closed for the duration. Richard, Heather, and I are healthy and working from home, as probably are most of you reading this. We will continue to crank out website updates, and newsletters, and process memberships, and answer your correspondence as best we're able, but for now, we're doing OK.
You've probably already learned that our Annual Membership Meeting, scheduled for 26 April 2020, has been canceled. Our Board of Trustees will meet on that date, as originally scheduled, but from our homes via electronic means. Business will be conducted as usual, and The SETI League will soldier on, because we're doing OK.
Just about every scientific meeting in the world has been canceled, including some that we were planning to attend, and were to make presentations. It is unclear if or when these meetings will be rescheduled. We are of course disappointed, but we're doing OK.
In recent weeks, you've probably heard from just about every nonprofit educational and scientific organization in the SETI universe, soliciting additional contributions to help them through these challenging times. But, we're not going to do that, because we're doing OK.
Thanks to your generosity over the past quarter century, coupled with our organization's abstemious fiscal policies, our survival is assured. Our scientific programs still receive enthusiastic participation from our dedicated membership, and will continue for as long as the possibility of extraterrestrial contact remains credible. We're definitely doing OK. My thanks to all of you who have made it possible for me to be able to say this.
Now is the time for you, our hundreds of members in dozens of countries around the world, to hunker down, shelter in place, care for your loved ones, practice social distancing, and wait for better times. We are a global family. Together, we'll continue to do OK.
Yours for SETI Success,
Paul
---
Disclaimer: The opinions expressed in editorials are those of the individual authors, and do not necessarily reflect the position of The SETI League, Inc., its Trustees, officers, Advisory Board, members, donors, or commercial sponsors.