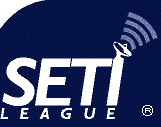 Departments
Membership Services
General Info
Financial Info
Activities
Awards
Coordinators
Director's Info
Members' Info
Policies
Forms
Publications
Official Publications
Director's Publications
Ask Dr. SETI ®
Fiction
Non-Fiction
Reviews
Reading Lists
Technical Support
Systems
Antennas
Amplifiers
Receivers
Accessories
Hardware
Software
Press Relations
Fact Sheets
Local Contacts
Editorials
Press Releases
Photo Gallery
Newsletters
Internet Svcs


Will the Allen Telescope Array Soon Resume its Scrutiny of the Skies?
by Seth Shostak
Senior Astronomer, SETI Institute
---
On April 15, the Allen Telescope Array - a massive instrument designed from the pedestal up to be optimized for SETI experiments - was turned off. There was ironic synchrony in this unfortunate event, since April 15 is the deadline for Americans to file their income tax returns, and the ATA was shuttered for lack of monies.
The Array is a joint project of the SETI Institute, in California's Silicon Valley, and the radio astronomy lab at the University of California at Berkeley. Historically, the Institute raised the capital costs for construction of the Array, and UC Berkeley paid for the telescope operations at their Hat Creek Observatory, sheltered in the Cascade Mountains about 300 miles north of San Francisco. Unfortunately, the financial circumstances of the Berkeley radio astronomy group have worsened in recent years: National Science Foundation grants dwindled, and California's legendary fiscal woes meant that the university was compelled to reduce annual spending by hundreds of millions of dollars, with inevitable knock-on effects to research projects. The lugubrious bottom line is that - as of Spring 2011 - there were insufficient funds to keep the Observatory staffed and operational.
Reluctantly, the decision was made to put the ATA into a so-called "hibernation" mode: safely maintained, but not actually taking data. A skeleton, part-time staff of two oversees the site, but no observations have been made. The dishes are permanently aimed at the southern horizon.
Now, however, there's reason to expect photons at the end of the tunnel. A recent, two-month, crowd-sourced funding initiative, called SETIstars, raised more than $200 thousand from the public to help get the ATA back on-line. With additional monies - the most promising being payment for part-time use of the Array by the U.S. Air Force for tracking satellites and space debris - it's quite possible that this instrument will resume scanning the skies for extraterrestrial signals as early as the end of September or shortly thereafter.
Funding will remain an ongoing concern of course, and it's also possible that the SETI Institute will find a replacement partner for the Berkeley radio astronomers who are, regrettably, no longer involved. But SETI experiments have historically (and frequently) been the victim of funding hiccups. So if past is prologue, the search for signals will resume soon.
Disclaimer: The opinions expressed in editorials are those of the individual authors, and do not necessarily reflect the position of The SETI League, Inc., its Trustees, officers, Advisory Board, members, donors, or commercial sponsors.