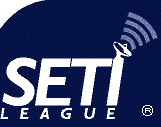 Departments
Membership Services
General Info
Financial Info
Activities
Awards
Coordinators
Director's Info
Members' Info
Policies
Forms
Publications
Official Publications
Director's Publications
Ask Dr. SETI ®
Fiction
Non-Fiction
Reviews
Reading Lists
Technical Support
Systems
Antennas
Amplifiers
Receivers
Accessories
Hardware
Software
Press Relations
Fact Sheets
Local Contacts
Editorials
Press Releases
Photo Gallery
Newsletters
Internet Svcs


SETI League Welcomes New IAA
SETI Committee Leadership Team
by H. Paul Shuch
Executive Director Emeritus
The SETI Permanent Committee of the International Academy of Astronautics, which serves in an advisory capacity to the United Nations Office of Outer Space Affairs (and whose membership has long included a good many SETI League members), has recently elected a new leadership team to serve for the next two years.
The Committee is now chaired by Prof. Michael Garrett. For years, he served as one of the Committee's two vice-chairs. Formerly Director of ASTRON in the Netherlands, Mike is now the Sir Bernard Lovell Chair of Astrophysics at Manchester University, and Director of the University's famed Jodrell Bank Observatory.
The two new vice-chairs of the Committee are Drs. Carol Oliver and Andrew Siemion. Long active in the SETI community, Carol is Associate Professor of Biological, Earth, and Environmental Sciences at University of New South Wales, and also an internationally known expert in evidence-based science communication, with a strong interest in online learning and teaching, and interests in astrobiology and space science. Formerly Committee Secretary, Andrew is currently Director of the Berkeley SETI Research Center at the University of California, and also holds the Bernard M. Oliver Chair for SETI at the SETI Institute in California. He is one of the most active and respected authorities on the Search for Extraterrestrial Intelligence, leveraging both radio and optical astronomy techniques.
Stepping up as the new Committee Secretary is geologist Lori Walton, a longtime SETI League member and frequent participant at IAA Astronautical Congresses. Lori is the president or founder of several prominent mining companies in Canada.
I would be remiss if I did not express my personal gratitude to active SETI League member Dr. Claudio Maccone, who held the position of SETI Committee Chairman for the past nine years. Before that, Claudio and I served together as the Committee's two vice-chairs for roughly a decade. Although we are both long retired, it is my hope that Claudio and I will continue to serve the Committee well into the future.
---
Disclaimer: The opinions expressed in editorials are those of the individual authors, and do not necessarily reflect the position of The SETI League, Inc., its Trustees, officers, Advisory Board, members, donors, or commercial sponsors.