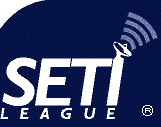 Chapter 3: Philosophy
---
SETI Search Strategies
Dear Dr. SETI:
I have a general question about current SETI search objectives. Are we seeking signals that are being intentionally sent to attract attention, or do we seek signals that would be generated by a civilization of at least our technical level (i.e.: radio, tv, radar, etc.)?
Thanks
Mark, Baton Rouge LA
The Doctor Responds:
Actually, both. Modern SETI involves two complimentary search strategies, the targeted search and sky survey (see this article) The former is best suited to detecting incidental leakage radiation, and the latter is designed for the detection of deliberate beacons. We hope one or the other will bear fruit.