Sing A Song of SETI
---
The Old 8JK
in honor of John Kraus, W8JK
Music and lyrics Copyright © 1996 by H. Paul Shuch, Ph.D.
When I first earned my license and got on the air
I fired up my S-Line, but no one was there.
So I figured I'd need something more than a rig,
Like perhaps an antenna. And best make it big.
Chorus:

And the old 8JK is a helluva beam!
It exhibits low VSWR, it works like a dream.
An impressive antenna in every way
Has got to be John Kraus' old 8JK.
So I strung up a wire to the sycamore tree.
I could hear the DX, but they didn't hear me.
It appeared if I wanted to make my rig scream
I was going to be needing some kind of a beam.
Chorus
My elmer he lent me his copy of Kraus.
It had all kinds of antlers to hang on my house.
And the one that I built on the very same day
Was a beautiful beam called the old 8JK.
Chorus
The beam that is known as the old 8JK
Is a simple two-element endfire array
Composed of two dipoles and easy to feed
With a balun and coax, or maybe twinlead.
Chorus
It didn't take long to make DXCC.
I could work all the stations; they QSL'ed me.
All the QRM somehow got out of my way
Whene'er I was using my old 8JK.
Chorus
Last summer the thunderstorms rolled through my town.
When the wind hit my tower, my antenna came down.
I looked at the wreckage, and what could I say?
For a new kind of pile-up was my 8JK.
Final Chorus:

And the old 8JK was a helluva beam!
It had very low VSWR, it worked like a dream.
Now a great pile of rubble across my driveway
Is all that remains of my old 8JK.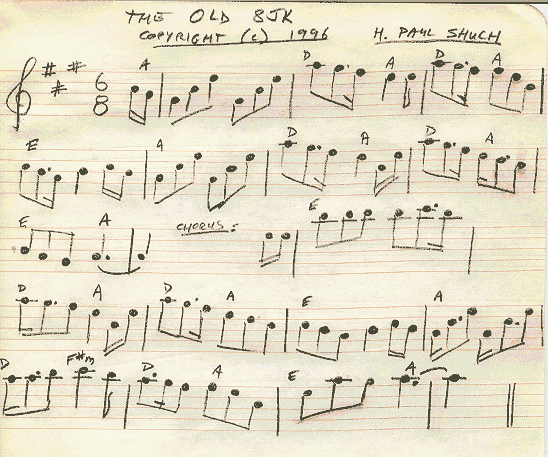 ---