Publications Department
---
Book Review:
Solar System
The book of the best-selling, award-winning App
by Marcus Chown
Black Dog & Leventhal, November 2011, $29.95 hardback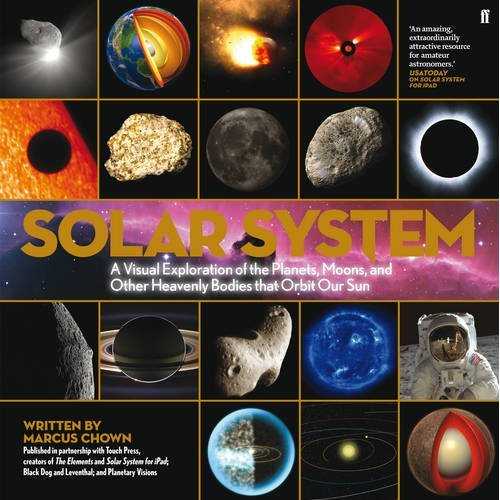 Solar System for iPad has been downloaded almost 100,000 times in 10 months. "An out-of-this-world digital book that is as informative as it is beautiful," said USA Today. It won The Bookseller 2011 Digital Innovation of the Year as well as Best App of 2011. But, if you were not lucky enough to have an iPad, you were stuck.
Not any more.
Now, at last, comes the book of the App. Written by former CalTech astronomer, Marcus Chown, and with the very best of the 800 images of the interactive book, Solar System is an awe-inspiring introduction to our cosmic backyard. Perfect for Christmas!
Did you know that...?
Today's sunlight is 30,000 years old.
There is mountain range twice as high as Everest that was built... in an afternoon.
The body that generates heat at the fastest rate in the Solar System is not the Sun.
When Galileo pointed his telescope at Saturn, he declared it a planet... with ears!
The planet Uranus was originally not called Uranus (It was called George!)
About the author: leading science writer Marcus Chown is cosmology consultant to New Scientist magazine and the author of numerous books including The Quantum Zoo (known internationally as Quantum Theory Cannot Hurt You).
---