Publications Department
---
Media Review:
Solar System for iPad
by Marcus Chown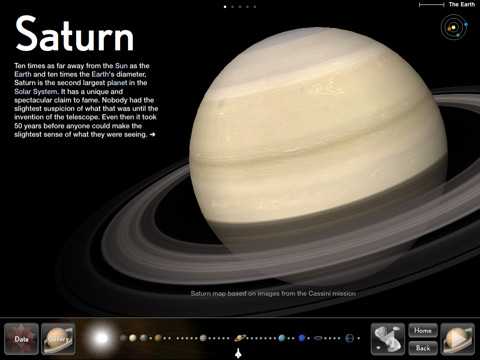 A breakthrough electronic book about the Solar System, offering hours of interactive exploration and presenting a treasure trove of visual information.
Best-selling author Marcus Chown leads us on a grand tour through the incredible diversity of planets, moons, asteroids, comets, and spacecraft that surround the Sun in our cosmic backyard. Illuminating his insightful and surprising text are a wealth of beautiful 3D objects, movies, images, animations, and diagrams, all fully interactive, richly detailed and accurately based on real scientific data. Set the heavens in motion in an interactive orrery that allows you to control the orbits of the moons and planets, observing them from any viewpoint with breath-taking surface detail. View the latest imagery returned by both astronauts and robot spacecraft, beautifully presented on the iPad screen.
This much-anticipated new title from Touch Press (publisher of The Elements) and Faber and Faber raises the bar yet again on what an electronic book can be. A perfect gift for anyone with an iPad, Solar System allows the imagination to roam free from Mercury to Pluto and beyond.
Solar System for iPad includes:
a stunning specially-composed launch track from Björk never before released
more than 150 beautifully presented story pages lavishly illustrated with interactive scenes, videos and 3D objects
over 40 fully-rotatable and pinch-zoomable 3D objects including the Sun, all its planets and their major moons
over 600 painstakingly selected images representing the very best of images returned by NASA, ESA and JAXA space missions
detailed captions for every image and object including technical data
live data from Wolfram | Alpha (internet connection required) providing comprehensive astronomical information
Available from iTunes
Released: Dec 21, 2010
Version: 1.0.0
Size: 842 MB
Language: English
Seller: Touch Press LLP
© 2011 Touch Press LLP
Rated 4+
Requirements: Compatible with iPad. Requires iOS 3.2 or later
About the author: leading science writer Marcus Chown is cosmology consultant to New Scientist magazine and the author of numerous books including The Quantum Zoo (known internationally as Quantum Theory Cannot Hurt You).
---