Publications Department
---
Book Preview:
Searching for Extraterrestrial Intelligence
SETI Past, Present, and Future
edited by H. Paul Shuch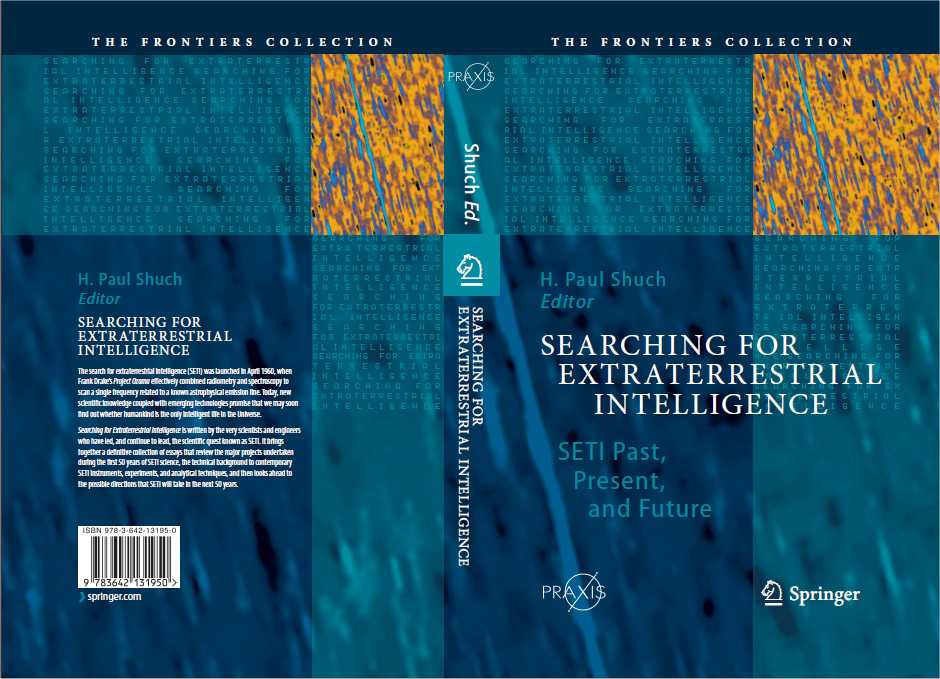 Series: The Frontiers Collection
Publisher: Springer Verlag, Heidelberg
Jointly published with Praxis Publishing, UK
1st Edition, 2010, 538 pages, Hardcover
ISBN: 978-3-642-13195-0
Release Date: 30 November 2010
List Price: $79.95 US
Brings together seminal papers on SETI (search for extraterrestrial intelligence) science, each authored by the pre-eminent authority on the topic
Reviews the technical aspects of this highly interdisciplinary intellectual pursuit
Covers the past, present and future of SETI science
Demonstrates why new scientific knowledge coupled with emerging technologies promise a positive result within the next half-century
This book is a collection of essays written by the very scientists and engineers who have led, and continue to lead, the scientific quest known as SETI, the search for extraterrestrial intelligence. Divided into three parts, the first section, 'The Spirit of SETI Past', written by the surviving pioneers of this then emerging discipline, reviews the major projects undertaken during the first 50 years of SETI science and the results of that research.
In the second section, 'The Spirit of SETI Present', the present-day science and technology is discussed in detail, providing the technical background to contemporary SETI instruments, experiments, and analytical techniques, including the processing of the received signals to extract potential alien communications.
In the third and final section, 'The Spirit of SETI Future', the book looks ahead to the possible directions that SETI will take in the next 50 years, addressing such important topics as interstellar message construction, the risks and assumptions of interstellar communications, when we might make contact, what aliens might look like and what is likely to happen in the aftermath of such a contact.
Content Level » Popular/general
Keywords » Astrobiology - Interstellar Messages - Radio Astronomy - SETI anniversary - SETI essays - Search for Extraterrestrial Intelligence - Search for Extraterrestrials - Search for Life in Space - Space Exploration
About the Editor
Dr. H. Paul Shuch is Executive Director Emeritus of the SETI League, an international educational and scientific non-profit corporation involved in and promoting all aspects of SETI research. He designed and served as principal investigator for the Project Argus all-sky survey, he is Principal Investigator for the Invitation to ETI initiative and he is best known for having developed and produced the world's first commercial home satellite TV receiver.
---