SETI League Press Release
---
Cosmic Explorers Reprint Classic Text
For more information contact: Dr. H. Paul Shuch, Executive Director
(201) 641-1770, or email info_at_setileague_dot_org
For Immediate Release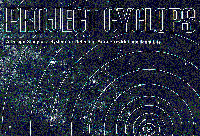 LITTLE FERRY, NJ.., June 11, 1996 -- In 1971 a team of radioastronomers and engineers headed by Hewlett Packard vice-president Dr. Bernard M. Oliver spent ten weeks designing the ultimate microwave system in the Search for Extra-Terrestrial Intelligence (SETI). The results of their effort became known as Project Cyclops, the most advanced interstellar receiving system never built. The published account of their summer study session, the Project Cyclops report, became a SETI classic, the foundation for much of the scientific work which followed. In the quarter-century since the Cyclops study group first convened, 10,000 copies of the Cyclops report were distributed by NASA. It is probably safe to say that every major player in SETI today cut his or her teeth on this document.
The Cyclops report had long been out of print. Last year two non-profit organizations, The SETI League and SETI Institute initiated a joint project to reprint this important historical document. Just weeks before his untimely death last November, Barney Oliver prepared an Introduction to the Second Edition. After much deliberation, the two organizations decided to go forward with their publishing plans in Barney's memory.
Project Cyclops, Second Printing (ISBN 0-9650707-0-0) went on sale in June, 1996, the 25th anniversary of the opening Project Cyclops meeting. Dr. John Billingham, who co-chaired the Cyclops team, has written a moving dedication to Barney Oliver, which appears in the new edition, along with introductory remarks by SETI League president Richard Factor and executive director H. Paul Shuch. Cover price of this facsimile edition is $20.00 postpaid to US addresses, or $24.00 elsewhere. Payment must be in US funds, checks payable on a US bank. We regret that we are unable to accept credit card orders at this time. Order from The SETI League, Inc., PO Box 555, Little Ferry NJ 07643 USA.
SETI scientists seek to determine through microwave and optical measurements whether humankind is alone in the universe. Since Congress terminated NASA's SETI funding in 1993, The SETI League and other scientific groups have been attempting to privatize the research. Experimenters interested in participating in the search for intelligent alien life, or citizens wishing to help support it, should email to join_at_setileague_dot_org, check the SETI League Web site at http://www.setileague.org/, send a fax to +1 (201) 641-1771, or contact The SETI League, Inc. membership hotline at +1 (800) TAU-SETI. Be sure to provide us with a postal address to which we will mail further information. The SETI League, Inc. is a membership-supported, non-profit [501(c)(3)], educational and scientific corporation dedicated to the electromagnetic Search for Extra-Terrestrial Intelligence.
P.S. Tearsheets are always appreciated. Thank you.
-end-
---