SETI League Technical Manual -- Systems
---
Editor's Note: The following product has been discontinued. The data sheet is retained here for historical reasons.
Radio Astronomy Supplies' Seeker 2000 SETI System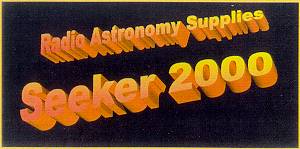 http://www.radioastronomysupplies.com/
---
Radio Astronomy Supplies is excited to feature this new product.
Please meet our fully dedicated SETI Receiver.
"SEEKER 2000"
The staff of Radio Astronomy Supplies has engineered this research tool, and with technical inputs from Dr. Paul Shuch, of The SETI League, we have come up with a state-of-the-art SETI receiver.
Specifications
SSB Receiver, Triple Conversion, 1 dB Noise Figure
Temperature Controlled Crystal Oscillator
Audio Control, Audio Output (1 volt peak to peak), 20 kHz audio bandwidth
1420 MHz bandpass (+/- 5 MHz), Computer Controlled Frequency Tuning (20 kHz Steps)
RS-232 Computer Interface
Rack Mountable Chassis
Low Noise Amplifier (.37 dB NF @ 28 dB gain)
Aluminum Cylindrical Feedhorn with N Connector
+12 Vdc Operation (Power Supply not included)
(Power and Antenna Cables are optional)
Full Instructions, Engineering Hotline and Fully Guaranteed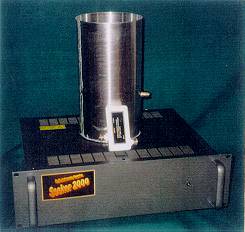 $1200 US + Shipping ($55.00 in US -- Contact us for Foreign Rates)
Six week delivery from the time we receive your order.
Radio Astronomy Suppies
P.O. Box 450546
Sunrise, FL 33345-0546
jeff_at_radioastronomysupplies_dot_com or 954 554-3739
---